I've always liked the idea of setting up a proper system of task management and emails, but it was only when I've red Digital Minimalism and Deep Work bei Cal Newport that I truly delved into productivity systems. While I haven't fully embraced the digital minimalist way of life, one thing I have adopted into my daily routine is time-block planning.
Time-block planning involves dedicating every minute of your (working) day to a specific task. The goal is to be highly intentional with your time: not merely checking off items from your to-do list randomly, but intentionally selecting tasks to be done within a specific time frames. Coupled with multi-scale planning, it provides a system that helps you stick to long-term goals while efficiently accomplishing short-term tasks.
If this sounds interesting you, I recommend reading Cal Newport's books, visiting his blog, and listening to / watching his podcast.
If you are already familiar with time-block planning, you might also know about Cal's physical time-block planner. He suggests using a physical notebook to do your planning, as it can be easily accessible on your desk, allowing you to make quick changes to your plan. While I was content with using a large Moleskine notebook with dotted paper, I found it quite tedious to draw up my template every weekend. Moreover, I wasn't a fan of the "official" time-block planner due to its cumbersome design and the issue of it always closing on its own (though the next version is supposed to have a spiral binding to address this). However, in the meantime, I've come up with my own solution:
, and I've found it to be fantastic. It allows me to easily export notes, use my handwriting to fill out PDF files, and even time-block plan my days. While it's possible to achieve the same on a paper notebook or an iPad, I find the focused nature of the reMarkable very appealing (meaning: the marketing worked on me).
The reMarkable 2 supports custom templates as backgrounds for your notebooks, so with a bit of terminal magic, I've set up a template for my time-blocking routine.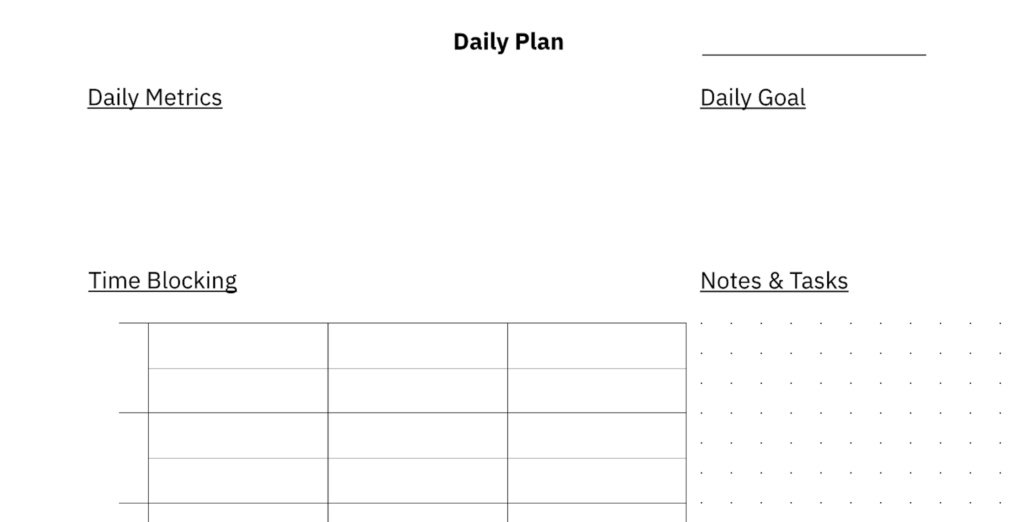 The template is quite basic, featuring a grid for your time blocks and some spaces for metrics, goals, and notes (though I'm currently not using the latter and am considering removing them from the template).
If you're interested, you can download the template from my GitHub repository. The repository also includes a guide on how to install the template. However, please be aware that you'll need to use the Terminal to connect to your reMarkable via SSH, so if you're unfamiliar with using the command line, it might seem a bit challenging.
Happy time blocking!
Happy time blocking! Feel free to post any comments or issues with the template here or as an issue on the GitHub page!